Mechanical Engineering
Mechanical Engineering is an evergreen branch which give immense exposure to diversified engineering fields. The Mechanical Engineering department at KLNPC is well equipped with latest labs and manned by highly qualified & experienced faculty members. The department has adopted latest teaching learning processes like e– learning (visit http://klnemech.in ), power point presentations using projectors, seminars, guest lectures, industrial visits etc are arranged to widen the knowledge of the students and to sharpen their intelligence. We take special efforts to reduce the gap between Industry & Institute. Mechanical Engineers are required in hard core Mechanical Industries and also they play a very important role in Government sectors like Engineering Services, Army, Navy, Air Force, Marine, Power Plants etc. Hence the employment potential is very high for Mechanical Engineers. To motivate students for higher education and Entrepreneurship through structured training.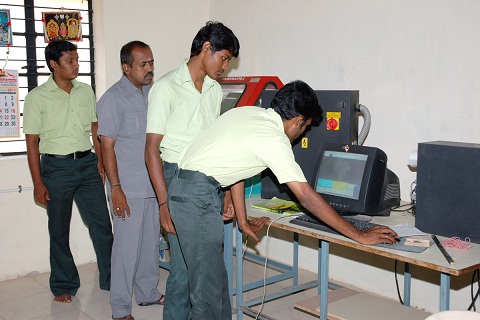 The department has 28 teaching Faculty, maintaining 1:13 Staff: Student ratio. In the team, there are 1-Ph.D, 4- M.E (Pursuing), 15 -B.Es. The department of Mechanical Engineering is well equipped with various modernized Laboratories as shown below:
1. CNC LATHE & MILLING LAB ( with Fully Airconditioned )
2. LATHE LAB
3. THERMAL ENGINEERING LAB
4. FOUNDRY,SMITHY,WELDING LAB
5. SPECIAL MACHINES LAB
6. AUTOMOBILE ENGG LAB
7. AUTO CAD LAB ( with Fully Airconditioned )
8. MECHANICS OF MATERIALS & FLUID MECHANICS LAB
9.CAD/CAM LAB ( with Fully Airconditioned )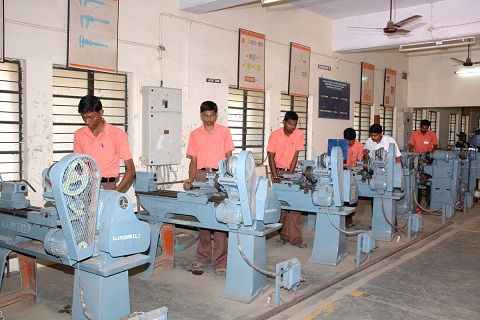 All the Alumni of the department are well placed in various professions.we are always achieving 100% placement through placement cell. A good number of Students were selected in the Campus Interviews by leading companies like ESSAR, THERMAX ENGG, WTITCS, ANABAND, BRAKES INDIA, TVS DELPHI, HI-TECH ARRAI, HYUNDAI, INDIAN FURNITURE, METROLLA STEEL, L&T, MAKINO, RAMBAL INDUSTRIES, TAFE, etc. Some of the Students are pursuing higher studies.
Mission
1.To prepare our student for successful career.
2.To inculcate integrity and honesty through curricular, co-curricular and extracurricular activities.
3. The community polytechnic scheme sponsored by MHRD,GOI is the exact way to reach out to rural community.
4. To provide formal and non formal quality engg education primarily to the rural poor and make them better professionals.
Vision
To enhance student's knowledge,skills and competencies for higher studies and better placement opportunities by introducing effective teaching and learning process.
PEO (programme educational objectives)
1.To prepare students to succeed in employment or to pursue postgraduate in Mechanical Engineering and allied Engineering disciplines.
2. To prepare  students with a sound foundation in the mathematical, scientific and engineering fundamentals necessary to formulate, solve, analyze problems to prepare them for further studies.
3.To inculcate in students professional and ethical attitude, effective communication skill, teamwork, and an ability to relate engineering to global perspective issues and social context.
4.to recognize the need for entrepreneurship
5.to embrace leadership roles in their careers.
The Programme outcomes :
1.An ability to apply knowledge of mathematics,science and mechanical engineering fundamentals.
2.An ability to identify ,formulate and solve complex engineering problems.
3.An ability to communicate effectively in both oral and written forms.
4.An understanding of professional and ethical responsibility
5.An ability to function effectively as an individual ,as a member or leader in diverse and multidisciplinary teams and to foster entrepreneurship.
6.An understanding of engineering and management principles to manage projects.
7.A recognition of the need for and have the ability to engage in lifelong learning.
Our Faculty Members:
| Faculty Name | Qualification | Designation |
| --- | --- | --- |
| Dr.N.D.Premkumar | M.E.,RBP,MBA,Ph.D | HOD |
| Mr.K.R.Ramesh Babu | M.E.,RBP,(Ph.D) | Sr.Lect |
| Mr.K.Gnanamuthu | M.C.A. | Sr.Lect |
| Mr.M.Veerakumar | M.E., | Lect |
| Mr.S.Thowfic Ahamed | M.E., | Lect |
| Miss.S.Kalpana | B.E., | Lect |
| Mr.M.Karthikeyan | B.E., | Lect |
| Miss.J.J.Vishnupriya | B.E., | Lect |
| Mr.N.Balamurugan | B.E., | Lect |
| Mr.P.Kishorekumar | B.E., | Lect |
| Mr.K.Mariselvam | B.E., | Lect |
| Mr.M.SelvaGanapathy | B.E., | Lect |
| Mr.M.Muthumari | B.E., | Lect |
| Mr.P.T.Kumaran | B.E., | Lect |
| Mr.K.Perumal | B.E., | Lect |
| Mr.R.N.Ramprasath | B.E., | Lect |
| Mr.K.ManojBala | B.E., | Lect |
| Mr.D.Prathap | B.E., | Lect |
| Mr.A.IvanRaja | B.E., | Lect |
| Mr.D.Sakthidasan | B.E., | Lect |
| Mrs.P.T.Usha | M.E., | Lect |
| Mr.M.R.Sureshlal | B.E., | Lect |